Today, many businesses are going environment-friendly, including large industries. Due to strict regulations, companies are forced to make amendments in their manufacturing and recycling process that can have a significant impact on the environment and the working conditions.
Recycling solvents help not only the environment but also the industries to save a lot of investment in buying new solvents every time. For this, industries need to focus on the best solvent recycling machines available in the market. It will help them reduce the introduction of hazardous waste into the surroundings and solvent costs.
Though there are many solvent recycling machines available in the market, how can you find the right one for you? So cut to the chase, you can try SW8, a powerful solvent washer model, a perfect solution to your solvent recovery problem.
Here, we will help you understand what this model is and how you can install it within your parameters to help you grow your business.
But before that, we will help you understand solvent recycling and its core benefits.
Introduction to solvent recycling
Solvent recycling arose from the need to keep the environment safe and clean. Everyone knows how industrial waste can be hazardous for every living being. Solvent recycling simply means recycling the solvents produced throughout the manufacturing process.
This process cleans the contaminated solvents and helps the industries to reuse them in the further manufacturing process without depending on new solvents. This way, the cost of buying new solvents gets reduced, and you can keep the environment clean by reusing the solvents.
If you have an on-site solvent recycling system, then you can experience significant benefits than having an off-site solvent recycling system. Thus, most companies are trying to move their solvent recycling facility to their nearest parameters for more benefits.
It is estimated that the solvent recycling market will grow in the coming years, as shown in the below chart.
Why should you recycle solvents?
If you are not recycling your solvents, you could be under the government's radar for not following the regulations within your area. Not following the recycling standards will not only degrade your brand reputation but also degrades the environment quality.
If you properly recycle the solvents, you can easily lead to better quality control. It will become more effective with an on-site solvent recycling machine SW8, then will make your recycling process more accessible.
But the benefits do not end here. Below are some considerable benefits that you can avail of by using solvent recyclers.
It has eliminated the dependency and need for new solvents, thus reducing solvent costs.
You will see significant results within months.
It helps you manage the on-site storage of waste.
It simplifies the regulatory reporting process.
With the current techniques, tools, technology, and advanced machines, recycling solvents within premises have become more accessible.
What is SW8 Solvent Recovery System?
Most companies might not be aware of this fantastic and powerful solvent recovery system that can help your industry to manage on-site hazardous waste. It is designed to fit within every type of premises easily.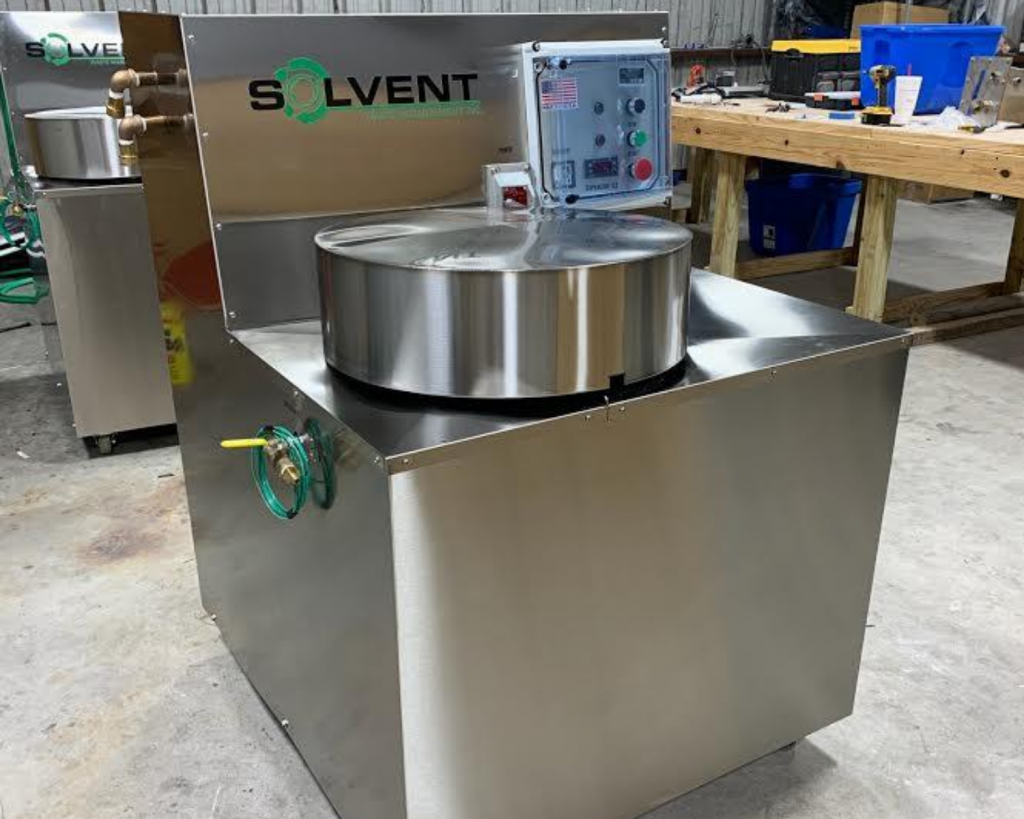 This machine comes with the following specifications.
Process Rate: 8 Gallons/Day
Boiling Range of Solvents: 100F – 375F
Utilities Required
Electrical: 240V, 1 Phase, 20 amp
Water: 1 GPM
Dimensions
Length: 36 in
Width: 24 in
Height: 48 in
Weight: 425 Ib
How do SW8 works?
If you are new to SW8 solvent recycling machine and wondering how to operate it, then you must be aware of the simple steps below. This machine has a simple start button that you can press after filling it with the desired solvent you want to clean.
This machine offers various features that you can use to simplify the overall recycling process so that you won't be worrying about having extraordinary human resources to handle this machine.
Below are some features that you will experience while using SW8.
You can quickly process a batch of 8 gallons.
You can set an automatic timer to shut down the recycling cycle at the end.
You can set the distillation system at an appropriate height.
You can easily open the lid with its tilt-back feature.
Not only this, it is a highly safe and secure facility to be operated by anyone. SW8 is a closed-loop system offering features such as an automatic heater to control excessive high and low temperatures and a stainless steel box with indicator lights to control the panel.
If you know the market well, you can experience how the technology has evolved to enhance the efficiency and viability of the solvent recycling process. Not only this, you will experience more features and advancements in the coming years.
Most solvent Recycling Equipment uses a distillation process that simply extracts the sand particles and carbon components from the produced solvent, making it feasible to be recycled back to reusable components. You can recycle various solvents that will eventually lower the cost of new solvents and decrease disposal difficulties.
Conclusion
An overall picture says that solvent recycling reduces your investment in solvent purchases and waste and reduces the environmental impact. The process of solvent recycling and recovery reduces the disposal costs, including buying fresh chemical purchases and storage costs. It results in having a positive impact on the environment.
There is no doubt how a solvent recovery process and machine can improve the brand quality of your business. Companies are moving forward with the safe environment approach, attracting top clients.
This way, you can easily enhance the safety standards and produce products economically. You can leverage consistent supply with an on-site solvent recycler system. So go for SW8. Go green!